Practice Makes Perfect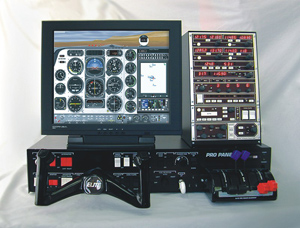 ELITE Simulation Solutions is a global provider of IFR training software, flight controls and flight training devices. You can log 2.5 hours toward your Private license and 10 hours toward your instrument rating on our Elite Simulator. We build and support FAA and JAR certified trainers and offer custom programming to both private and government entities. Our hallmark is quality and our creed is good customer service.
Since 1987, ELITE® (acronym for Electronic IFR Training Environment) has provided IFR simulation software for pilots world wide. Quantum leaps in computer technology have allowed us to be aggressive in product improvement in both software and flight control engineering. This evolutionary process has resulted in open and flexible flight training systems for personal and institutional training programs. ELITE® offers desktop trainers and full cockpit training devices with multi-screen visual systems. We are committed to continual improvement and innovation and our goal is to provide pilots and schools with high tech / low cost simulation solutions.