Benefit from our years of experience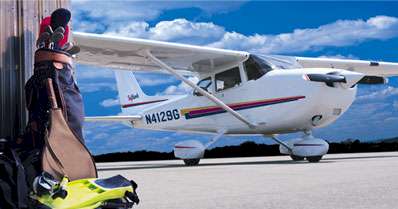 Harborside Aviation is a professional flight school that offers unparalleled service. Our  training facilities have a friendly, comfortable  atmosphere and are state-of-the-art. Flight training is done in new Skyhawk aircrafts with  professional FAA Certified Instructors.
Minimum Requirements
You must be at least 16 years of age to solo and 17 years old to receive your Private Pilot Rating. You must be able to speak, read and understand English. . There is a minimum of 40 hours flight time (combined dual and solo) including at least: 20 hours of dual flight instruction, including at least 3 hours cross country flight (more than 50 miles away) 3 hours night instruction 3 hours in preparing for the flight test 10 hours solo flight time, including at least 5 hours of solo cross country 3 solo takeoffs and landings at an airport with an operating control tower Some required and appropriate ground instruction A "Knowledge Test" must be taken before you can take the flight test. We also have a FAA designated flight examiner right here in our building.
Not a US citizen?
Apply online at www.flightschoolcandidates.gov There help line number is 571-227-1004. They will tell you what you need to do before your start your training.

Pleasure or Business?
Imagine traveling twice as fast as you can drive. Imagine taking friends and family on trips. Skiing. Surfing. Golfing. Shopping. Imagine making impossible business appointments in cities far away and still making it home at night.

Imagine taking off after work for a bite of the world's best Mexican food. In that quaint little diner. Two states away. Imagine just exploring the wild blue yonder.

Now, stop imagining. Get in touch with your inner pilot. Fly and be free. Call us. Schedule your Discovery Flight today. We'll hook you up with a friendly, expert flight instructor, and a fun, reliable Cessna aircraft. You will learn comfortable, on your own terms, on a schedule that fits your own. Imagine that.

What Aircraft will I fly?
We have two Cessna 172's, one with standard gauges and another with all the latest technology including the G1000, WAAS and "Synthetic Vision".
Training Overview
Your training comprises two parts – flight training and ground school.

During your ground school, you'll learn bits of "book knowledge" you'll need to be a proficient pilot. You have several options for ground training, but the goal is to successfully complete your aviation Knowledge Test and have a basic understanding of your aircraft and the airspace. etc.
Flight training takes place in the airplane. You'll learn the skills and gain experience to safely operate an airplane on your own – and pass your check ride.
How to Start
Getting started on your flying adventure is easy. Contact us, schedule your discovery flight today. We understand pilots, and what it takes to be a pilot, like no one else.
Rest assured. We'll walk you through the program step-by-step, from you discovery flight to your license. At our school you'll know exactly what you are spending and why.
Start you adventure - here's a sample of what awaits you:

A safe, friendly, comfortable, dynamic atmosphere in which to learn.
A knowledgeable flight instructor to mentor you and accommodate  your requirements.
Train in dependable factory manufactured aircraft.