Who we are..
Harborside Aviation is a Professional flight school providing a wide variety of services to the general aviation community. Harborside Aviation has been teaching people to fly for many years. We have the latest in aircraft, equipment and interactive computer based ground training. Our instructors are all professional and certified by the FAA.
Jean Lewis, CFII, MEI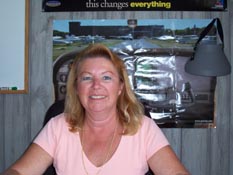 Jean Lewis was previously the owner and manager of a flight school in N.J. called Lewis Flying Service. Jean and her family are all pilots. Her father was an instructor in the Army Air Corp in World War II and her brothers are both airline pilots. Her sister and nephews are also pilots as well as her husband John.
Jean and John moved to Florida in 2003 after her husband took an early retirement from Mobil/Exxon Oil Co. They had visited Florida many times in their Cessna 210 when on vacation and decided that Punta Gorda and the airport were perfect for them. In Sept 2003 Jean started instructing in Punta Gorda and eventually she and her husband bought the flight school from the previous owners and renamed it Harborside Aviation. Jean has over 15,000 hours flight time and 29 years as a flight instructor.
John Sockwell

John Sockwell is Jean's husband and partner in Harborside Aviation. He started flying in 1991 and has a private and commercial pilot's rating. John's father also flew as a pilot during World War II. Jean and John took many vacation trips to Florida and the Bahamas in their Cessna 210 looking for their perfect place to move to someday. When John took an early retirement package from Mobil/Exxon Co.(he was a lab technician) the timing was right and they moved to SW Florida. John has over 600 hours flight time and enjoys spending time at the airport.
Ed Leffingwell, CFII, MEI

Ed Leffingwell is a flight instructor and multi-engine instructor. He has over 5000 hours flying time and owns his own Grumman Cougar twin engine airplane. Ed began flying years ago up North where he previously owned a Cessna 182.Ed is retired from General Electric.
SteveMcEachern 
Steve A. McEachern is an FAA Gold Seal Senior Flight Instructor with over 2000 hours flight instruction experience. He began flying in 1972 and has enjoyed flying in different parts of the country. Steve served in the U.S. Navy as an Aerographer's Mate (i.e., Aviation Weatherman) and loves teaching weather skills. He previously owned an aircraft and is knowledgeable on aircraft systems from an owner perspective. Steve began instructing after a long non-aviation career holding technical/management positions in the Medical Device/Pharmaceutical Industry.
Neal McConchie (pronounced McConokee)

Neal is a recent transplant from Indianapolis, Indiana. Earned his private pilots license in 1996.  From then until 2010 earned ratings to become CFI.Was raised in an aviation-focused family that owned a piper cub. "I really enjoy working with adults and helping them work toward their dream of getting a pilots license or getting back into aviation.  Many chose to put their dreams on hold while 'Life Happened.'  Some decide that now is time to get back to their dreams, flying being one of them.  I find adult students excited and very dedicated to the task and eager to learn.  It makes them fun to work with."